Saint-Narcisse is a 2020 tragicomedy directed by Bruce La Bruce and starring Félix-Antoine Duval, Tania Kontoyanni and Alexandra Petrachuk.
With his film, Saint-Narcisse, cult director Bruce LaBruce raises a middle finger to the preening. "But don't be fooled," says film journalist Nico van den Berg, "this film is so much more than porn kitsch."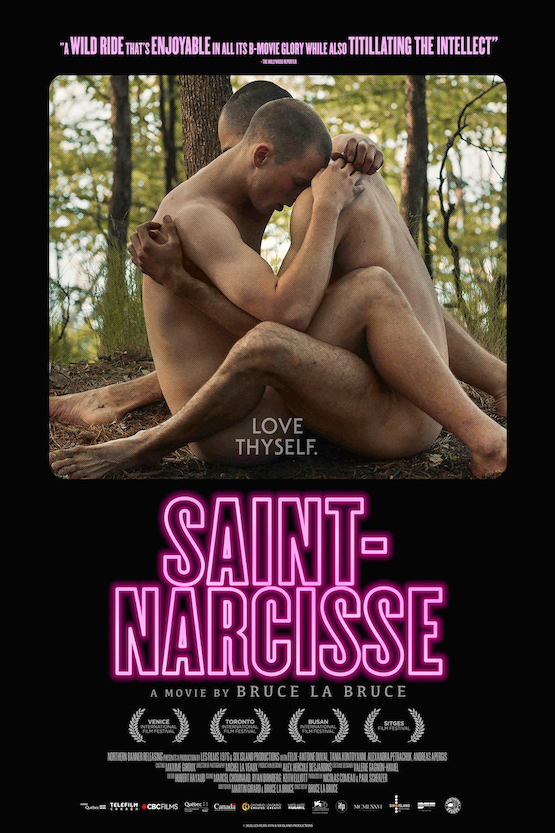 PLOT:
22-year-old Dominic has a fetish … for himself. Nothing fascinates him more than his own reflection and he spends his everyday life taking Polaroid selfies, among other things, which he also hands out to strangers on the street.
When his beloved grandmother, who raised him, dies, Dominic uncovers a long-held family secret: His mother, who was thought dead, is still alive!
Dominic sets out to find his mother, and in doing so learns not only what caused her to abandon him as a child, but also that he still has a twin brother named Daniel, who was raised by a corrupt priest in a remote monastery.
Determined to meet his twin brother, Dominic seeks out the monastery where Daniel lives. But the reunion of the two brothers does not hold only joy, as soon all involved find themselves caught in a tangled web of desire, revenge and redemption.
PRESS Reviews:
"If you like La Bruce's earlier films, you'll love this one." queerguru.com.
"All in all, Saint-Narcisse is a wild ride that is entertaining in all its B-movie glory while also stimulating the intellect." hollywoodreporter.com
"This blend of camp and melodrama is one of the funniest films this year and handles taboo subjects with surprising sensitivity." seventh-row.com
"Though absurd and shamelessly horny, "Saint Narcisse" may yet be LaBruce's most polished and accessible work." arthousestreet.com
"An irreverent, compelling and very sensual story with a fantastic Félix-Antoine Duval. The music is wonderful and immerses the viewer in this bizarre fable – an extraordinary adventure, perfectly realized." cinemagavia.es
*Bruce LaBruce (born January 3, 1964) is a Canadian artist, writer, filmmaker, photographer and underground director based in Toronto.